SAEG International Leader 2016 tells us about his important role in the Fire Protection Division from the Dominican office.
It is barely 10:00 am in any Friday in Santo Domingo and project engineer Victor Soto has been working for quite awhile in the Fire Protection Division.  However, his mind is in another place:  at Duarte Peak, the highest in the Caribbean, summit he is planning to conquer at 3087 meters above sea level.
Every year for more than a decade he has been making this journey and this natural elevation located in the mountain range of the country without doubt has become his passion.  And how this could not happen?  On this site he even met his wife, Perla in a trip that as he admits, changed his life not only because they have not been apart for the past nine years but in consequence "things emerged about him that he had no idea."
Life is a great expedition
Victor Soto first adventure started as a teenager when he moved-in with his maternal grandmother in San Cristobal outside the capital city.   There he spent five years as a high school student at the Loyola Polytechnic Institute, administered by the Society of Jesus and one of the most prestigious schools of the island.  Victor overcame not only the academic demands of this educational institution but also the fact of being far away from his family and friends.
From a very young age he loved engineering:  "I love to build, make something to happen ever since it is in your drawings, in your mind", he confesses.  This is why when he returned to the capital city after completing his Baccalaureate studies as Technician in Electricity he pursued  a Bachelors degree in Electric Engineering at the Universidad APEC (Accion Pro Educacion y Cultura).
Time after a new endeavor approached Victor´s life with fatherhood, experience that as he states is heavenly.  Being the father of Victor, 7 years old and of Jose Daniel, 2 years old, he discovered that it is possible "to experience like if you were reawakening, doing things again and better throughout your children.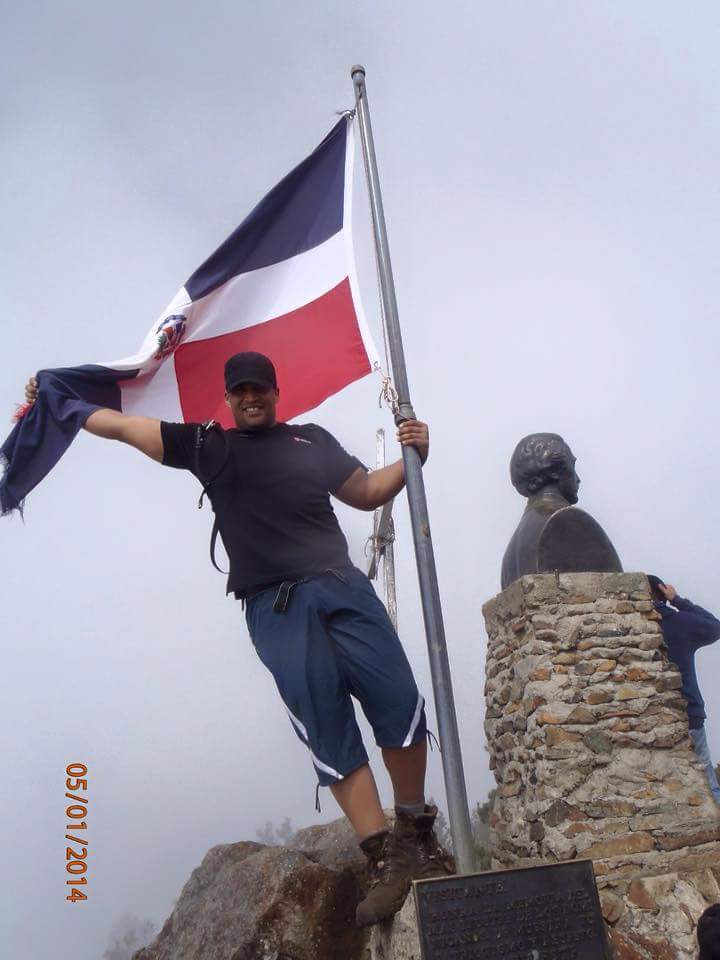 The Way to the Top
Victor Soto our current SAEG International Leader 2016 was granted this recognition for outstanding performance as supervisor of the projects of the Fire Protection Division in the office of Dominican Republic.  However, his early beginnings in the company were not in a supervisory position.  His work history as SAEG employee started almost 14 years ago.  First, he worked in the pump automation systems of the Fire Protection Division, then, he moved to the maintenance of fire protection systems and facilities before working on his current responsibility.
This 36-years old young engineer who recently completed a master's degree in Project Management has moved up and continued to grow professionally within our organization thanks to his strong determination and perseverance that as he states have tailored his destiny.  Such characteristics are embodied in is daily duties every day.
The Leader Flagship
To climb a mountain as Duarte Peak is challenging and difficult.  One must work-out, prepare and plan accordingly,   just as it happens when one lead a project.  A great deal of commitment and responsibility: "A poor installation could be costly not only in terms of monetary resources but of human lives; equipment malfunction could be catastrophic, we are always paying attention that test runs follow the insurance company regulations; we provide hands–on training to our customers regarding equipment maintenance and functioning, he states.
One cannot help comparing both worlds.  Physical training and preparation is similar when you are planning a project:   communicating with your client, anticipating energy and water savings, among other things.  The completion of such project is like climbing the mountain as such.  A road where you can find obstacles even though response to such hurdles can be planned: What should I do if I fall down? Do I have enough food supplies?
Delivering the project is reaching the summit.  Setting the flag.  A characteristic honored by this fan of Juan Luis Guerra, who perfectly knows that the responsibility performing this type of works is enormous.  Now it is time to follow-up, to provide ongoing contact with clients; to maintain the functioning of the system according to regulations of insurance companies complying with annual checks of the equipment and confirming that everything is running smoothly.  An ongoing commitment well appreciated by SAEG.  As Victor would state:  "Let´s go for more.