20 years of experience
SAEG Engineering Group is a company offering HVAC equipment and integral solutions, fire protection and security, access, CCTV; building automation and controls; energy conservation, air quality and water technologies by providing an added value to our clients through electromechanical engineering services and applications tailored to the needs of the industries we serve in the business and industrial sector in the Americas.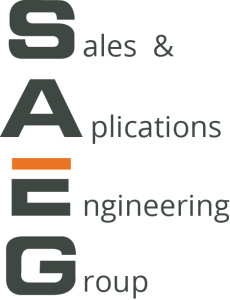 The company was founded in 1997 in Miami and since then, it has expanded to a great portion of the Latin American community with offices in Colombia, Costa Rica, Dominican Republic, Panama and our most recently in Chile in May 2015.
In 2013 SAEG became a transnational corporation with the challenge to continue as a leading company in the electromechanical engineering field. SAEG International Group headquarter offices are located in the City of Panama, from where all the business areas of the organization are managed.

The year 2017 was very special for SAEG because we celebrated 20 years of sustainable growth dedicated to offer the best products and services of the industry, also we were adquired by Daikin Applied.


Daikin Applied, a member of Daikin Industries, Ltd, designs and manufactures technologically advanced commercial HVAC systems for customers around the world. Customers turn to Daikin with confidence that they will experience outstanding performance, reliability and energy efficiency. Daikin Applied equipment, solutions and services are sold through a global network of dedicated sales, service, and parts offices.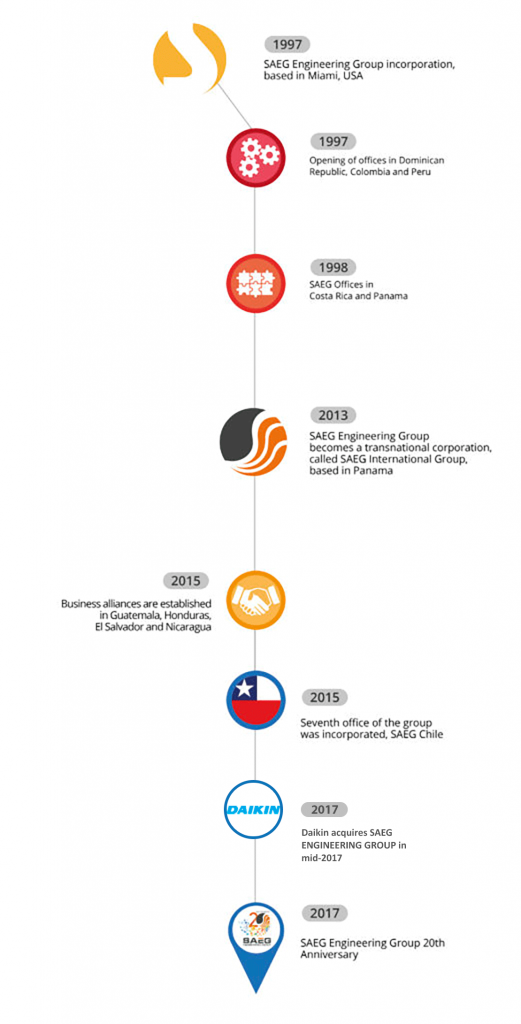 WE CHANGE TO FUEL OUR GROWTH
Message from the President of the Board of Directors
It has been some years ago that SAEG Engineering Group set forth the goal to become the leading-edge international corporation in the electro mechanical engineering market. This has been an evolving process that has required us to revise and adjust our working structures in all our business areas, from the distribution of equipment to the development of projects. 
Today, this transformation process is a reality. Furthermore, it entails a whole new proposal of the conceptual framework and relationship of our company towards our customers, fellow-workers and business associates. The new marketing image and graphical expression we have chosen emphasizes movement and transformation, which is perfectly
aligned with our main corporate value: Leadership.
We are continuously evolving to adapt to a constant changing market. The three "S's" in our new Logo symbolize the core of our business Vision, ideals which were founded with the company about 20 years ago, and our diversification to three representative business units.
We will continue moving forward in this path of renovation, development and striving for excellence. In SAEG Engineering Group we are committed to growth by meeting the challenges and changes of our demanding economies.